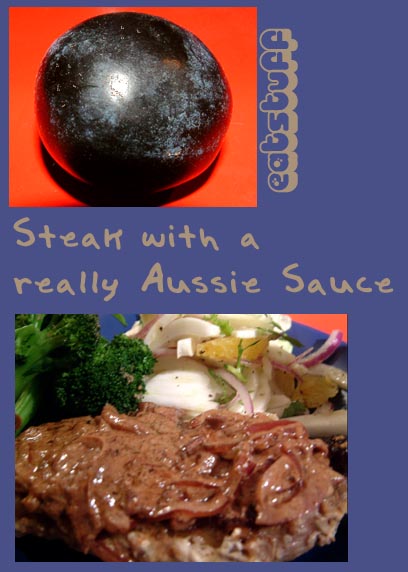 Since everyone liked the Mangosteens so much I thought I would highlight an even more obscure fruit, The Davidsons Plum. What on earth is a Davidsons Plum(
Davidsonia pruiens)
? I can already hear the questions *grin*. Well it is that purple round thing in the top of the picture . They are a rainforest tree that produces these round fruits dark purple fruits with a reddish interior. They will be hard to comeby but if you live in Wollongong and up, try growing your own!. Whilst they are so acidic your mouth will pucker, they do have a nice flavour, they make excellent jam which is abit like rasberry but better! So what does this have to do with steak? Well my mum gave me 2 fruits (as she is making the rest into jam!!!! so I didnt want to steal too many). So I thought that they would help to make an excellent sauce for steak! and you know what? I was right! (The recipe will be located at the bottom of the post). They added a really nice flavour to the sauce!
To serve with the steak, I had a head of my mums organic broccoli. If there was ever a reason for home grown vegetables it is broccoli (tomato is a fruit ;). The broccoli is more flavourful, and much more tender when it grows in her garden. I could just have a bowl dressed with alittle butter, some parsley and salt and pepper for dinner. I know have to survive on the few heads that I am very happily given!
I also made a fennel and orange salad. The navel oranges which are avaliable in Australia are fantasticly sweet and cheap so if you live here go buy some!
Steak
A nice tender steak per person (we had sirloin) (so tender you could cut them with a butter knife!) each side with a nice coat of pepper and salt just before going into the pan
1/2 onion sliced
1 davidsons plum (perhaps a substitute would be redcurrant jam/jelly?) or fresh redcurrants! (or mushrooms to be traditional ;) )
2 tbsp of sour cream
salt and pepper
a good glug of red wine (Aussie shiraz of course!)
A nice knob of butter and/or olive oil
In a nice hot pan (preferably not non stick) add butter(or oil), when it foams add the steak and let it seal and cook on one side. When this side is crusty, flip the steak and seal on the other side, when this has browned and onions and davidsons plum, when onion is cooked add the wine, stir to degalze pan. When it has deglazed add the sourcream and turn the heat down (steak should be just about cooked. Stir the sour cream through. Remove steak, and allow it to rest on the plate. Adjust seasoning in the sauce and pour on top of the steak.
Fennel and orange salad
1/2 fennel finely sliced
1/2 red onion
2 oranges, segmented
Squeeze extra juice from oranges into a jar, add olive oil and salt and pepper to taste shake.
Put fennel, onion and orange into a bowl, pour on dressing serve. (is that easy or what!)
Posted inb
Steak
,
Recipe
,
Food and Drink
,
eatstuff